By Chris Pearson, President, 5G Americas
One of biggest developments in the world of wireless cellular telecommunications today is the growth of private wireless 5G and LTE networks for corporate enterprises, which are finding a place in helping companies unleash for Industry 4.0, as well as meeting connectivity needs for the new hybrid workplace. With that in mind, 5G Americas has just released a new white paper entitled "Private and Enterprise Networks" that takes a deep dive into one of the hottest trends in the industry today.
While the idea of private wireless networking is not new, enterprises have increasingly turned towards private wireless network options in 2021. According to Polaris Market Research, the market size for private 5G networks is expected to reach $13.92 billion by 2028. Indeed, the global market for private 4G LTE networks continues to remain strong, having been valued at $3.15 billion in 2020 and projected to reach $8.5 billion by 2028, according to ResearchandMarkets.
Instead of limiting infrastructure spending during the pandemic, companies have increasingly been looking to prepare their offices and campuses for the return of a hybrid workforce that works from home, on-site and everywhere in between. Indeed, the current pandemic crisis has taken a toll on the well-being of employees, as 49% of people indicate working remotely makes them feel isolated and 32% of professionals say their connection to company culture has suffered – and a whopping 90% experience technology issues when collaborating from home, according to Cisco. Yet, many employees see their future in a hybrid work anywhere environment.
Done right, 5G and LTE technologies can help to address these issues through improved connectivity.
Of course, managing a remote workforce isn't the only thing that 5G excels at. As enterprises become increasingly more distributed and autonomous, all those processes start to require much more bandwidth and spectrum. High quality video is one of the biggest drivers of the size of the data payload over a given network, and as employees increasingly communicate using video for meetings, so too do the requirements for enhanced mobile broadband.
However, speed and bandwidth are not the only considerations for enterprises and consumers. 5G offers benefits in three primary areas: expanded data throughput via enhanced mobile broadband, extremely low latency, and management capabilities for many more devices than 4G LTE.
Many enterprise applications demand incredibly low latency, such as in automation or for critical communications – think of fleets of autonomous vehicles with AI algorithms being trained up with vast amounts of visual data, or continuous sensor data needed to maintain precision robotic movements on the factory floor. Increasingly, enterprises and verticals are using the combination of 5G's ultra-reliable low-latency communications (URLLC) capabilities along with edge computing to reduce the 'travel time' it takes for data to complete the round-trip from mobile device to compute server, as detailed in 5G Americas white paper "5G at the Edge." This potent combination of 5G URLLC plus edge computing will enable the AI revolution when it comes to real-time services like vision recognition, language translation, spatial awareness, and continuous machine learning. 
At the same time, these enterprise applications are increasingly running over multiple networks (local private networks, corporate networks, transport networks, mobile network operator networks) and are demanding much more control over network behavior regardless of the access technology or operating model being used. As enterprises increase in size, their far-flung operations require more control, more determinism, and more options than ever before.  5G massive machine-type communications (mMTC) will help with the management of up to one million devices per square kilometer despite the very different power and data needs required.
For potential private wireless network operators, a key item to understand is the sheer complexity and magnitude of the task. Private and enterprise network planning must take into consideration several key components that can include identity management, authentication, onboarding, authorization, policy definition and enforcement, access selection and multi-path, security, spectrum determinism – and much more. Indeed, enterprise security in a 5G world is no longer built around the monolithic firewall where everything inside is 'safe' from the outside. In modern 5G networks, every aspect of the network from user equipment (UE) to air interface of regulated spectrum to the radio access network (RAN) to transport network to the mobile packet core network must include airtight security protocols. Fortunately, much work has already been done – and continues to be done – when it comes continuous security updates, as detailed in 5G Americas white paper, "Security Considerations for the 5G Era."
As modern CIOs and CISOs grapple with these complexities, they must also contend with how these plans are integrated into an already-functioning enterprise IT network. They have to build the plane while they fly it, so to speak, and ensure that nothing breaks while these upgrades to modern network architecture will eventually result in efficiency gains, as well as potentially unlock new revenue and business models for the company. Fortunately, 3GPP releases and efforts by numerous cellular wireless standards organizations include reference designs as well as open-source work help address these complexities and achieve faster time to market.
The challenge here is that every enterprise – every company and organization is unique. One size does not fit all. An auto manufacturer may be looking at entirely different requirements in terms of speed, coverage, latency, power management, and spectrum licensing costs than, say, a hospital. A sports broadcaster may need a tremendous amount of bandwidth for a stadium, as well as the ability to manage logins from tens of thousands of consumer-owned mobile phones simultaneously downloading and uploading for a short window of game time. That is a completely different story than a wireless network for a maritime port, which may be concerned with managing inventories from tens of thousands of RFID-enabled cargo containers continuously.
Traditionally, enterprise CIOs may have been challenged in maintaining their networks under the era of the corporate firewall. In fact, many private networks already in existence use very specialized equipment designed to specific tasks well, but have incredible difficulty connecting to other devices outside of these core functions. However, as private networks evolve, today's modern networks must increasingly contend with connectivity and security for thousands of mobile devices moving in and out of the private network's range. It is no surprise then that many enterprise operators seek the assistance of communications service providers (CSP) or mobile network operators (MNO) to guide them through this challenge.
Private enterprise networks of the future will likely be a hybrid network, combining 3GPP and non-3GPP access and operating models that must satisfy the requirements of the enterprise/private network operator. Incorporating 3GPP technologies into the non-public network adds new spectrum, potentially more deterministic radio access and broadens possibilities for managing the hybrid network.
Generally, private and enterprise networks will fall into three categories:
Enterprise Managed based on legacy, non-3GPP Models, incorporating 3GPP radio access and core elements into a traditional enterprise IT model
Mobile Network Operator (MNO) Managed based currently on Release 15 and 16 capabilities for incorporating non-3GPP access into the 3GPP 5G architecture
Parallel with essentially non-interacting 3GPP and non-3GPP components managed as separate networks

The combination of these three categories opens possibilities for dynamic collaboration models between the enterprise, private wireless operator, mobile network operator, and/or third-party partner.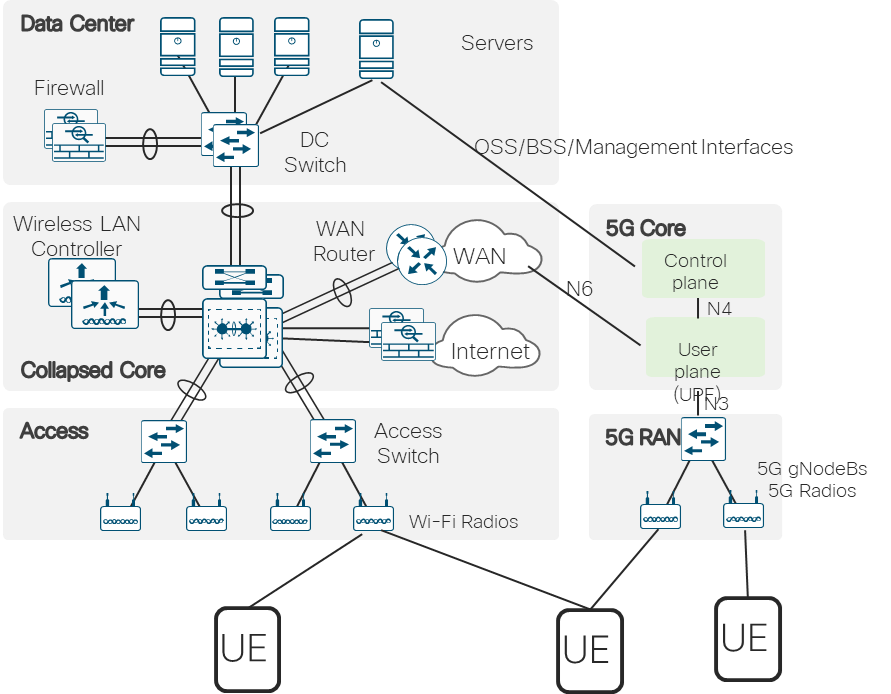 The mobile industry is barely at the starting gate when it comes to 5G applications.  Yet, as you can see, the management of private networks could become more complicated – and potentially much more rewarding – as 5G networks bring new enhanced mobile broadband, ultra-reliable low latency, and massive machine-type communications to the table. If the industry analyst projections are any indication, private wireless network enterprise spending is going to unlock new 5G innovations and solutions for the enterprise of today and tomorrow.  
Chris Pearson
President, 5G Americas
How are 5G and LTE re-shaping private and enterprise networks?
Find out more about how evolving cellular wireless technologies like 5G and LTE are changing how modern businesses are building new opportunities and overcoming challenges.