T-Mobile Media Release | Oct 24, 2023
BELLEVUE, Wash. — October 24, 2023
What's the news: T-Mobile has achieved its year-end goal of covering 300 million people with Ultra Capacity 5G (5G UC) months ahead of schedule. With additional network enhancements made, T-Mobile's overall 5G footprint has expanded as well, now covering more than 330 million people or 98% of the population.
Why it matters: More people than ever before will be able to experience the ultra-fast speeds offered by T-Mobile 5G UC.
Who it's for: More than 116 million people riding on T-Mobile's network nationwide.
What's the point in having a goal if you can't absolutely SMASH it?! T-Mobile (NASDAQ: TMUS) today announced it has expanded its Ultra Capacity 5G network to cover 300 million people – reaching the goal months ahead of schedule! The Un-carrier also expanded its overall 5G coverage to reach more than 330 million people and more square miles than the other two largest U.S. wireless providers combined.
"We have been leaders in the 5G era from the start, deploying the largest, fastest, most awarded and most advanced 5G network in the country faster than anyone else," said Ulf Ewaldsson, President of Technology at T-Mobile. "While the other guys are playing catch-up, finally beginning to build out their mid-band 5G networks, we are maintaining our lead and will continue offering customers the best network – paired with the best value – for years to come".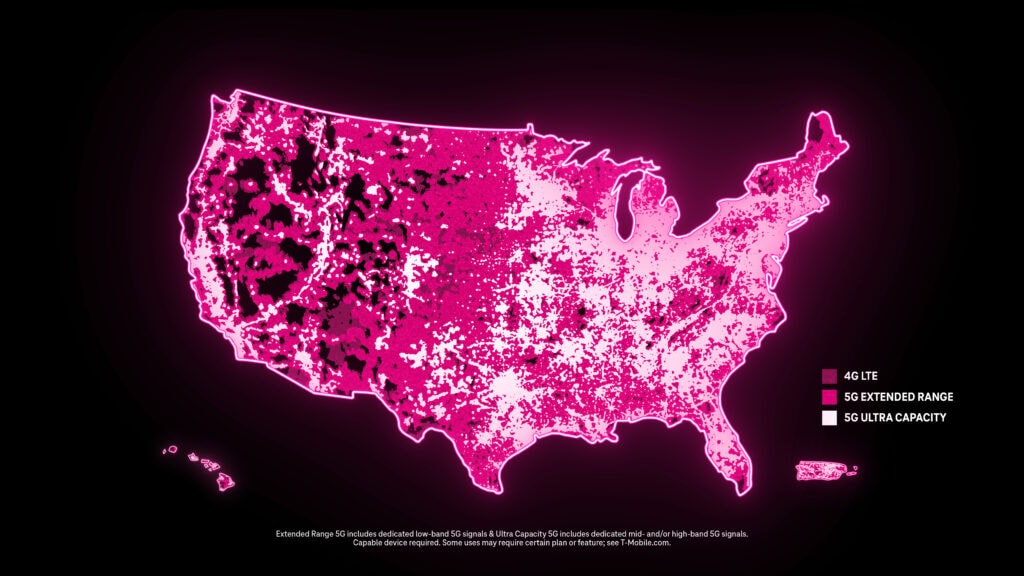 T-Mobile holds a massive lead in 5G coverage and speed thanks to a strategy set in motion years ago. While other U.S. operators went all in on millimeter wave at the beginning of the 5G era, the Un-carrier set its sights on a multi-band spectrum strategy using low-band 5G to blanket the country and mid-band 5G (Ultra Capacity) to bring insanely fast speeds to nearly everyone. While the other guys finally woke up and smelled the coffee, they're stuck in a perpetual state of playing "catch up"- and still years behind the Un-carrier. In fact, T-Mobile's Ultra Capacity 5G covers more square miles than the mid-band 5G networks of the other guys combined! And that lead isn't going away anytime soon (well, ever, actually). No other provider has even stated plans to achieve the level of 5G capacity and reach that T-Mobile is delivering today.
It's no wonder T-Mobile continues to take top honors in expert third-party reports, just this month winning best overall network performance from Ookla and best 5G availability IN THE WORLD from Opensignal.
"T-Mobile's turnaround story is incredible, going from network underdog a decade ago to the undeniable network leader today," said Anshel Sag, Principal Analyst at Moor Insights and Strategy. "T-Mobile has not only built out a robust 5G network with unmatched coverage and capacity, but the Un-carrier is also leading the way in rolling out new capabilities that will unlock the true promise of 5G."
T-Mobile is the leader in 5G with the country's largest, fastest and most awarded 5G network. The Un-carrier is also delivering the world's most advanced 5G with the country's first and largest 5G standalone network, allowing it to bring new wireless capabilities like voice over NR, 5G carrier aggregation and network slicing to life for customers and developers across the country.
For more information on T-Mobile's network, visit T-Mobile.com/coverage.
Follow @TMobileNews on X, formerly known as Twitter, to stay up to date with the latest company news.
# # #
See 5G device, coverage, & access details at T-Mobile.com. Fastest based on analysis by Ookla® of Speedtest Intelligence® data for the U.S., Q3 2023. Ookla trademarks used under license and reprinted with permission.
About T-Mobile
T-Mobile US, Inc. (NASDAQ: TMUS) is America's supercharged Un-carrier, delivering an advanced 4G LTE and transformative nationwide 5G network that will offer reliable connectivity for all. T-Mobile's customers benefit from its unmatched combination of value and quality, unwavering obsession with offering them the best possible service experience and undisputable drive for disruption that creates competition and innovation in wireless and beyond. Based in Bellevue, Wash., T-Mobile provides services through its subsidiaries and operates its flagship brands, T-Mobile, Metro by T-Mobile and Sprint. For more information please visit: https://www.t-mobile.com
Media Contacts
T-Mobile US, Inc. Media Relations
MediaRelations@t-mobile.com
Investor Relations Contact
T-Mobile US, Inc.
investor.relations@t-mobile.com
https://investor.t-mobile.com