Qualcomm Media Release | June 22, 2023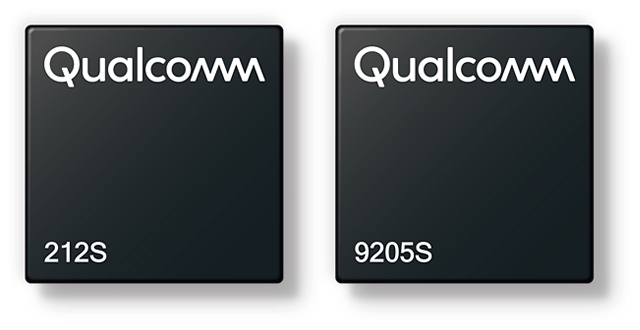 Highlights:
The new modems enable ultra-low power and superior connectivity for IoT devices across satellite and cellular networks.
The new modems follow the 3GPP Release 17 standards for satellite communications on GEO/GSO satellites, making connectivity available globally and providing easy device setup and orientation.
Both chipsets support the Qualcomm Aware™ platform, which provides real-time asset tracking and device management in remote areas to support critical decision-making.
Qualcomm Technologies, Inc. today announced two modem chipsets with satellite capability: the Qualcomm® 212S Modem and the Qualcomm® 9205S Modem. The new Qualcomm® modem chipsets power off-grid industrial use cases that require standalone non-terrestrial network (NTN) connectivity or hybrid connectivity alongside terrestrial networks, and allow IoT enterprises, developers, ODMs, and OEMs to harness real-time information and insights to manage business projects.NTN service provider
"Earlier this year Qualcomm Technologies announced the Qualcomm Aware platform, a revolutionary solution that allows companies to better monitor and track valuable assets virtually anytime and anywhere around the world," said Jeff Torrance, senior vice president and general manager, connected smart systems, Qualcomm Technologies, Inc. "Our Qualcomm 212S and Qualcomm 9205S chips take our IoT tracking and monitoring capabilities one step further, providing connectivity and coverage even in the most remote areas. These products also further showcase our ability to bring and scale superior innovations to even the most challenging and complex IoT environments."
"We're proud to collaborate with Qualcomm Technologies to provide satellite connectivity on these groundbreaking new IoT modems to help off-grid devices have coverage in challenging cellular environments," said Parthsarathi Trivedi, CEO and Co-Founder, Skylo. "As a leading NTN service provider, we'll help to deliver satellite connectivity through the Qualcomm Aware Platform using our network of satellite operators to power a range of IoT use cases with optimized integrations through the Qualcomm 212S and 9205S modems for stationary and in-transit uses."
The Qualcomm 212S Modem enables stationary IoT devices to use satellite communication for superior, off-grid connectivity.
It is designed with ultra-low power consumption for applications in remote, fixed locations, helping promote an extended usable life. Applications include gathering telemetry and data from water and gas tanks, meters, and other infrastructure equipment. It is also well-suited for utility grid monitoring, early fire detection reporting, on-shore and off-shore mining installations, and environmental management.
The Qualcomm 212S is Qualcomm Technologies' first IoT-NTN-only modem that supports the 3GPP Release 17 standards for satellite communications. It is designed for cost efficiency and value, with only the essentials necessary for satellite communications and nothing more.
The Qualcomm 212S is also compatible with the recently announced Qualcomm® QCM4490 Processor to easily deliver ultra-low power satellite connectivity to industrial handheld devices. This important integration powers time-critical, two-way messaging capabilities and one-way payload delivery between devices and customer end points or the Qualcomm Aware™ cloud, all while helping promote extended usable device time.
The Qualcomm 9205S Modem enables IoT devices to easily connect to cellular and satellite networks for virtually gap-free coverage, and integrates GNSS to provide location data.
It is ideal for industrial applications that require always-on, hybrid terrestrial and satellite connectivity for goods and assets on the move. Applications include transoceanic shipping container tracking, agricultural equipment and livestock tracking, global fleet and freight tracking for supply chain management including for logistics partners that perform remote deliveries.
The Qualcomm 9205S uses virtually the same architecture as the Qualcomm 9205 Modem, making it easy to upgrade equipment designs to include satellite connectivity and enable hybrid connectivity. The Qualcomm 9205S helps enable hub-type use cases through a highly capable applications processor and peripheral support for a wide variety of IoT applications.
Like the Qualcomm 212S, the Qualcomm 9205S adheres to 3GPP Release 17 standards for satellite communications, making it easy to establish IoT-NTN connectivity using GEO/GSO satellites and eliminates the need for orientation-specific device positioning.
Both the Qualcomm 212S and the Qualcomm 9205S easily integrate with the Qualcomm Aware Platform for NTN connectivity services and device management in remote areas or to manage business projects that rely on accurate, real-time data for critical decision-making.
The industry is already showing support for Qualcomm Technologies' new IoT-NTN solutions: Industry Support.
The Qualcomm 212S Modem will be available later this year and Qualcomm 9205S Modem is available now. For more information, please visit the Qualcomm 212S and Qualcomm 9205S product pages.
About Qualcomm
Qualcomm is enabling a world where everyone and everything can be intelligently connected. Our one technology roadmap allows us to efficiently scale the technologies that launched the mobile revolution – including advanced connectivity, high-performance, low-power compute, on-device intelligence and more – to the next generation of connected smart devices across industries. Innovations from Qualcomm and our family of Snapdragon platforms will help enable cloud-edge convergence, transform industries, accelerate the digital economy, and revolutionize how we experience the world, for the greater good.
Qualcomm Incorporated includes our licensing business, QTL, and the vast majority of our patent portfolio. Qualcomm Technologies, Inc., a subsidiary of Qualcomm Incorporated, operates, along with its subsidiaries, substantially all of our engineering, research and development functions, and substantially all of our products and services businesses, including our QCT semiconductor business. Snapdragon and Qualcomm branded products are products of Qualcomm Technologies, Inc. and/or its subsidiaries. Qualcomm patented technologies are licensed by Qualcomm Incorporated.
Qualcomm and Qualcomm Aware are trademarks or registered trademarks of Qualcomm Incorporated. 
Qualcomm Contacts
Pete Lancia
Corporate Communications
1-858-845-5959
Mauricio Lopez-Hodoyan
Investor Relations
1-858-658-4813