Qualcomm Media Release | Oct 24, 2022
Companies to Collaborate on High-Performance, Energy Efficient 5G vDU and Massive MIMO RU Solutions Designed to Meet the Demands of the Modern Networks
Highlights:
The 5G Open RAN Infrastructure solutions will be powered by the Qualcomm® X100 5G RAN Accelerator Card and high-performance Massive MIMO Qualcomm® QRU100 5G RAN Platform
New 5G Open RAN Infrastructure solutions to be unveiled during Mobile World Congress Barcelona 2023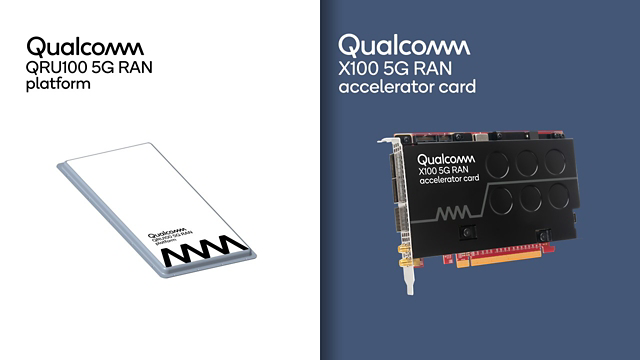 Qualcomm Technologies, Inc. and Vodafone have a strong, longstanding relationship driving mobile communications innovations in Europe and today the companies announce the next step in that collaboration. By joining forces, the two industry leaders plan to develop, test and integrate next-generation 5G distributed units (DUs) and Radio Unit (RU) with Massive MIMO capabilities, ultimately to deliver the commercial deployment of Open RAN in Europe. This joint announcement builds on the companies' previous commitment in April 2021 to develop technical blueprints that will help equipment suppliers build 5G networks of the future using Open RAN technology.
Qualcomm Technologies and Vodafone are developing 5G Open RAN Infrastructure solutions powered by the Qualcomm X100 5G RAN Accelerator Card and the high-performance Qualcomm QRU100 5G RAN Platform. The solutions are expected to offer breakthrough power consumption performance to reduce total cost of ownership (TCO) and make networks environmentally sustainable and address demands of next-generation networks with massive MIMO with 64T64R and 32T32R capabilities needed for high-capacity dense urban scenarios.
"We look forward to broadening our collaboration with Vodafone to deliver the next wave of digital transformation and proliferate Open RAN deployments globally with high-performance, energy efficient radio and distributed unit solutions," said Dino Flore, vice president, technology, QUALCOMM Europe, Inc. "By combining Qualcomm Technologies' 5G leadership and Vodafone's expertise in building large-scale networks, we can transform how modern networks are designed and next-generation services are delivered."
"We congratulate Qualcomm Technologies on the recent sampling of the Qualcomm X100 5G RAN Accelerator Card and Qualcomm QRU100 5G RAN Platform, and we look forward to working alongside Qualcomm Technologies to test and deliver these platforms" said Santiago Tenorio, director, network architecture, Vodafone. "This significant milestone is an important step forward to deliver the commercial deployment of Open RAN in Europe, and bring innovative, cost-effective and power-efficient Open RAN solutions."
Stay tuned for more news from the companies at Mobile World Congress Barcelona 2023.
About Qualcomm
Qualcomm is the world's leading wireless technology innovator and the driving force behind the development, launch, and expansion of 5G. When we connected the phone to the internet, the mobile revolution was born. Today, our foundational technologies enable the mobile ecosystem and are found in every 3G, 4G and 5G smartphone. We bring the benefits of mobile to new industries, including automotive, the internet of things, and computing, and are leading the way to a world where everything and everyone can communicate and interact seamlessly.
Qualcomm Incorporated includes our licensing business, QTL, and the vast majority of our patent portfolio. Qualcomm Technologies, Inc., a subsidiary of Qualcomm Incorporated, operates, along with its subsidiaries, substantially all of our engineering, research and development functions, and substantially all of our products and services businesses, including our QCT semiconductor business.
About Vodafone
Vodafone is a leading telecommunications company in Europe and Africa. Our purpose is to "connect for a better future" enabling an inclusive and sustainable digital society. Our expertise and scale gives us a unique opportunity to drive positive change for society. Our networks keep family, friends, businesses and governments connected and – as COVID-19 has clearly demonstrated – we play a vital role in keeping economies running and the functioning of critical sectors like education and healthcare.
Vodafone is the largest mobile and fixed network operator in Europe and a leading global IoT connectivity provider. Our M-Pesa technology platform in Africa enables 50m people to benefit from access to mobile payments and financial services. We operate mobile and fixed networks in 21 countries and partner with mobile networks in 52 more. As of 30 September 2021, we had over 300m mobile customers, more than 28m fixed broadband customers, over 22m TV customers and we connected 136m IoT devices.
We support diversity and inclusion through our maternity and parental leave policies, empowering women through connectivity and improving access to education and digital skills for women, girls, and society at large. We are respectful of all individuals, irrespective of race, ethnicity, disability, age, sexual orientation, gender identity, belief, culture or religion.
Vodafone is also taking significant steps to reduce our impact on our planet by becoming net zero by 2040, purchasing 100% of our electricity from renewable sources in Europe and across our entire operations by 2025, and reusing, reselling or recycling 100% of our redundant network equipment.
For more information, please visit www.vodafone.com, follow us on Twitter at @VodafoneGroup or connect with us on LinkedIn at www.linkedin.com/company/vodafone.
Qualcomm is a trademark or registered trademark of Qualcomm Incorporated.
Qualcomm X100 5G RAN Accelerator Card and Qualcomm QRU100 5G RAN Platform are products of Qualcomm Technologies, Inc. and/or its subsidiaries.
Qualcomm Contacts
Pete Lancia
Corporate Communications
1-858-845-5959
Mauricio Lopez-Hodoyan
Investor Relations
1-858-658-4813