By Chris Pearson, President, 5G Americas


(Bellevue, June 2022) – Sometimes when you're in the midst of a major revolution, it's hard to get the right perspective on how much change is happening – and how quickly. For the past few years, the wireless cellular industry has been undergoing some very significant changes to the way it delivers connectivity to mobile (and fixed) devices. Some analysts and media like to gauge progress like it's a horse race because, well, races can be exciting, and it helps to narrow the focus of the conversation.
But if we were to step back from the sidelines view of the horse race, we are seeing some very significant changes over a very short period of time when it comes to the development of 5G networks – namely in the areas of network deployments, commercial spectrum availability, the ubiquity of 5G devices, wireless cellular technology enhancements, and the early stages of new ecosystems and use cases for the networks.


Network Deployments
Rewinding the clock to December 2018, when Korea Telecom and AT&T announced the first commercial 5G networks in the world, 5G has become a global phenomenon. A look at the latest deployment numbers shows that after only three and a half years in operation, there are now nearly three fourths of a billion 5G connections around the world, according to data from Omdia. Let's let that sink in: in less time than a full U.S. presidential administration, roughly nine percent of the world's population has adopted 5G.
In fact, 410 million of those connections came within the last year, showing that 5G adoption is accelerating rapidly in many areas of the world, as we hit the sharp spike of the growth curve. Indeed, there are now over 224 commercial 5G networks that have been deployed globally, with at least 14 in North America alone, demonstrating that 5G is not just an standard or an advertisement but is commercially available.  
Of course, those are just numbers reflected by mobile network operators. One other giant groundswell of interest is occurring in private 5G networks, where there are announcements from enterprises and other businesses on a nearly daily or weekly basis. Organizations as diverse as hotels, colleges, Internet conglomerates, and financial institutions are working with mobile network operators and equipment manufacturers to stand up private 5G networks in their operations. Not only have equipment vendors entered the private 5G market, hyperscale cloud companies have also put forward considerable initiatives with the intent to deliver 5G communications infrastructure for their enterprise customers. Indeed, according to Grand View Research, the global private 5G network market size is expected to reach USD $36.08 billion by 2030 – that's a staggering CAGR of 47.5% between 2022 and 2030.
Indeed, as I wrote a few years ago, "5G can be bigger than you think."


Spectrum
But to take advantage of all the capabilities that 5G networks possess, it's important to maintain a consistent pipeline of commercial wireless spectrum. In 2021, the GSMA announced that countries should plan to make 2 GHz of mid-band spectrum available per country in the 2025-2030 time frame to guarantee IMT-2020 requirements for 5G. This is no joke. These models take into consideration that demand for mobile data is growing at a whopping rate of 40% annually, effectively doubling every two years coming from a global base of usage that's already over 80 exabytes of data, according to the June 2022 Ericsson Mobility Report Update.
For many countries around the world, there is a growing consensus of the use of 3.5 GHz spectrum as a standard for wireless cellular. Due to the complex nature of US spectrum use, the early days of 5G was marked with challenges for US federal agencies to mobilize and synchronize the availability of the right kind of spectrum that harmonizes with the rest of world.
More recently, there has been some momentum when it comes to the US federal government releasing mid-band spectrum. Over the past few years, we've seen activity in mid-band in three main spectrum bands:
2.5 GHz – the Federal Communications Commission (FCC) announced that July 29, 2022, will be the start of bidding in Auction 108 for 2.5 GHz licenses. This auction will be for "white-spaces" of the 2.5 GHz band where no one owns the spectrum.
3.45 – 3.5 GHz –  Auction 110 from October 5, 2021 – January 4, 2022, which closed earlier this year with a number of successful bidders. This band is especially important because it is adjacent to the CBRS band (3.55 – 3.7 GHz).
3.55 – 3.7 GHz "CBRS" band, which has been a critical band for shared spectrum and used quite often in private 5G and LTE deployments; and
3.7 – 4.2 GHz, otherwise known as "C-Band" Auction 107, which yielded over $81 Billion in gross bids and provides much-needed mid-band spectrum for 5G services.


The next phase for 5G's growth in the US will involve ensuring that the future spectrum pipeline is healthy enough to close the working spectrum gap with other leading wireless nations. Multiple encumbered bands as lows as 1.3 GHz and as high as above 95 GHz are currently being discussed as potential opportunities as 5G Americas described in its 2021 white paper.


Devices
Of course, no 5G network is complete without the end-user devices that carry the 5G signal. Here, consumer 5G devices have so far been a success story, while wireless 5G devices for the enterprise are a in the early stages.
Overall, OEMs have successfully delivered thousands of new kinds of 5G devices, giving hundreds of millions of people around the world access to a true 5G experience. According to the Global Mobile Suppliers Association, the number of announced 5G devices rose by 2.9% in April 2022 to 1,373 devices. "Of these, 1,040 are understood to be commercially available, representing 75% of all announced 5G devices. That is a rise of 21.3% in the total commercial 5G devices over the previous quarter."  
These come in 24 announced form factors – predominantly smartphones and tablets. The GSA expects to see the number of commercially available 5G devices to reach the 1,200 mark by the end of the second quarter of 2022.
However, as private 5G and enterprise networks gain in popularity, the number of different form factors for 5G devices will need to dramatically increase. If the promise of 5G-enabled Internet of Things devices is to unfold, there will need to be continued progress on getting 5G chipsets into shapes usable by all types of vehicles, robots, sensors, buildings, wearables, and a huge variety of different variations of forms. As the industry still stands at the 'proof-of-concept' stage for the next killer app, there is a lot of prototyping and experimentation currently going on behind the scenes at innovative 5G labs sprouting around the world. The early successes coming out of these labs and incubators will guide the development and scale of the big 5G device revolution.


Technology
The roadmap for 5G innovation is strong. With the Third Generation Partnership Project (3GPP) Release 17 being finalized, 5G networks will see some very interesting improvements over the next few months. Some of the major improvements in Release 17 include support for non-terrestrial (satellite) networks, support for higher frequency spectrum in the 52.6 – 71 GHz range, support for extended reality (XR) and the metaverse, multi-SIM support, as well as compatibility with reduced capability or "RedCap" 5G devices that will sip data and power, rather than guzzle it.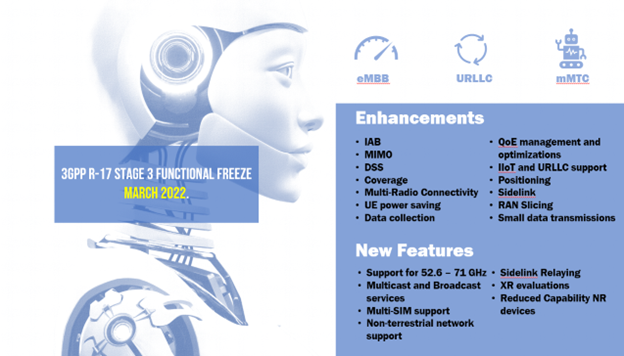 With 3GPP Release 17 out of the way, the next few years will see the development and finalization of Release 18, which has already been dubbed "5G-Advanced"– the next major evolution of this generation of wireless cellular technology. There are too many improvements in 5G-Advanced to name, but some of the developments will likely involve major changes in the 5G Core networks in areas involving Multimedia Systems and Services (MMS), Management, Orchestration and Charging, as well as numerous changes to Radio Access Network interfaces and architecture.



Ecosystem
As the impact of 5G networks has grown, so has the number of different companies that are partnering to build them. We are not only seeing hyperscale cloud companies joining the dance to bring private 5G to their customers, but traditional network equipment manufacturers and operators / communications service providers (CSP's) are finding new and interesting ways to interact to tackle the 5G deployment story.
Advances in 5G network technology like network slicing will reach its potential  when an ecosystem of OEMs, system integrators, developers, value added retailers, operators, and standards organizations coordinate their efforts. In some instances, this could require traditional competitors to find opportunities to collaborate to drive the most value for their customers. Quite simply put, not only is 5G bigger than you think – it's bigger than any one company can successfully deliver.
The new age of wireless cellular networks will involve more partnerships and alliances than ever before. That will make work from organizations like 5G Americas more critical, not less, to move the industry to a place that will drive Industry 4.0 forward. As 5G's stunning growth opens new doors, our industry will need to become even more welcoming and flexible to take advantage of the kind of innovation this generation of technology can unleash. We'll need to work with government regulators, vertical industry leaders, academia, and community organizations to fully realize the potential of 5G and beyond.
What a great time to be here.
-Chris
Find Out More
Want to know how 5G networks are growing and developing? Check out this white paper.